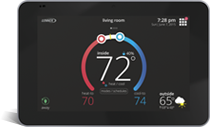 Thermostats are used to turn on heating or cooling systems to bring the home to a set temperature. In addition to basic temperature control, programmable thermostats can be used to manage the indoor environment of your home at different times of the day or week. This type of control can have a dramatic impact on the overall energy use of your home. We carry a complete line of thermostats. Let us help you choose the one that best matches your lifestyle.
Top Tech Thermostats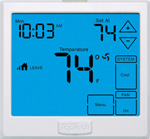 The TopTech line of thermostats boasts the largest displays for the price. You simply will not find a better value.
These thermostats give you the flexibility and ease of use to make your installations painless. Our Universal design (up to 3H/2C) and exclusive upgrade path allows a system to be upgraded without rewiring a subbase.
Programmable Thermostat Product Offering